EMM- Enterprise Mobility Management-App & Content Centric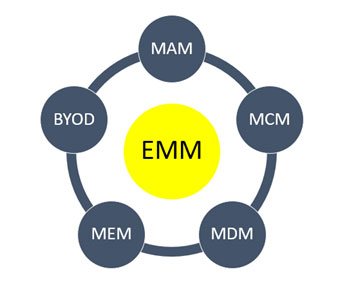 Enterprise Mobility is a group of people, processes and technology managing mobile devices, and mobile computing services.Enterprise Mobility Management is a step ahead of MDM. It's an amalgamation of MDM, MAM (Mobile Application Management), MCM (Mobile Content Management), and MEM (Mobile Email Management). It enables device, application, content, and email management along with application wrapping, tunneling, encryption and containerization. All in a single suite.
BYOD aka bring Your Own Device, are part of almost every corporate policy. With EMM, you can provision email, corporate apps, intranet access to any employee. IT admins can apply a host of policies on user's personal device all in a containerized, encrypted environment
Suppose a user wants to access an internal website on his smartphone from a remote location. He just needs to enter the website URL, rest all will be handled by the device agent which communicates with your corporate network.
IT, can now restrict copy-paste, screenshots, attachments & document sharing on the device with non-approved apps.Patches, updates can be delivered to devices over-the-air without much user intervention using patch management.
Also, if an employee leaves the organization, admin can delete the enterprise settings without physically handling the device.At the same time, the personal data is untouched and unharmed. EMM makes defining and applying enterprise, security and regulatory compliance policies across devices easier and shifts the focus from device to application and content.