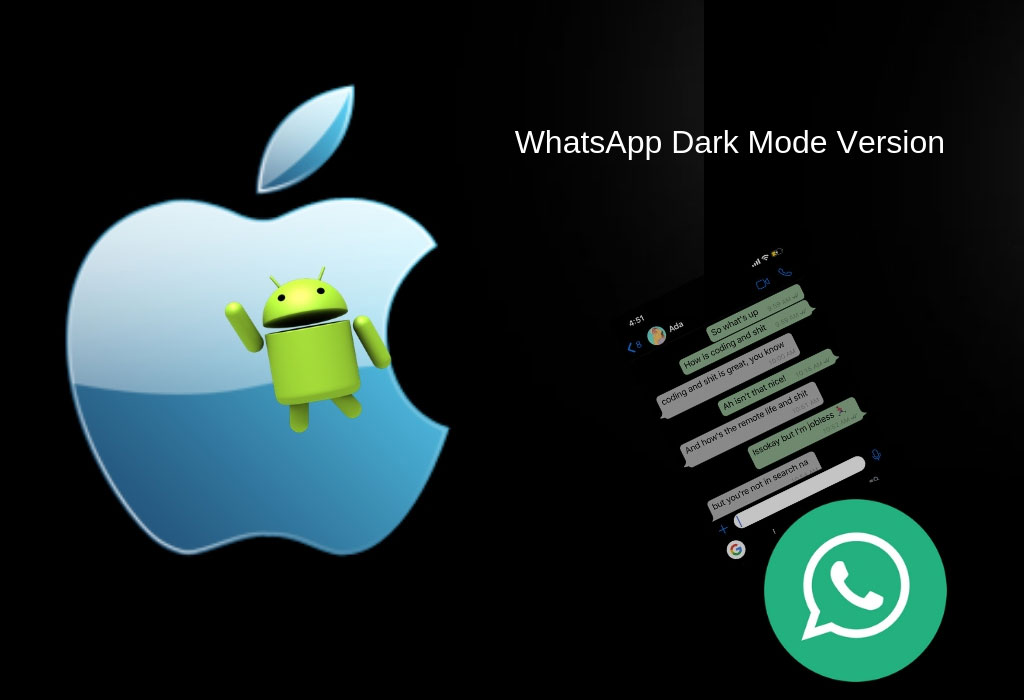 It's been only a couple of months when the world witnessed the dark mode version of YouTube and Messages was released in Android OS. Dark theme support seems to have become the latest trend nowadays. App developers are loving it and working with a lot more enthusiasm to make it live, including Google. There are lots of speculations in the tech town that WhatsApp may also join the fun league with its own dark mode version. It is revealed by various sources that a billion users plus chatting app, WhatsApp is working on its dark mode that is expected to be rolled out in the early part of 2019. WhatsApp's dark mode is one of the most awaited features which users are looking forward to using and while this new WhatsApp feature is expected to help the platform in its bid of making the end-user experience better.
What exactly dark mode is and how does it works?
With the interesting ability to change the UI on an app from having dark print on a white background to having white print on a dark background, you can save your sensitive eyes from getting irritated and tired, especially when there is no light. With a very bright and intense white background shining into your eyes during the night, or when the lights are out, it can feel like your retinas are melting. Additionally, there are some people who enjoy the look of dark mode regardless of whether the sun or moon is out.
How dark mode apps are beneficial for the phone and eyes?
Many people struggle to understand the hype about the optional bonus of having a dark mode. The dark mode has only popular in the last 3 to 5 years as companies began to roll out these models to make night users and those with bright screens benefits. The dark mode has been around in the tech industry for a while but only now have Apple adopted this theme into their OS.
Here are some notable benefits of using ark mode applications.
Improved readability of text
Better contrast of the screen
Fewer eye fatigues
Less flicker
Les blue light
Less prone to triggering photophobia
Although some content doesn't need dark mode. Dark mode is deliberately created for those who want to reduce eye strain at night. Many dark mode lovers use their devices at night and claim the remarkable benefits of this have been extremely useful. For those type of users, it can be a lifesaver over time.
How Dark Mode will be beneficial for WhatsApp?
In one of the announcements made by a large tech portal, it has been revealed that the dark version of WhatsApp will be released for both iOS and Android users and will be made live very soon. A well-known and credible leakster website, WABetaInfo, exclusively made us aware of this development and it appears like WhatsApp is finally following the footsteps of its parent, Facebook, which announced a crisp and OLED-friendly dark mode for Facebook earlier this year.
But there is currently no mention of how WhatsApp's dark mode will look like. Now we are more excited and eager to know how it will be. This will also eliminate the need for molded apps or custom Sub stream themes. Along with the dark mode, Android application development services provider has been reported that WhatsApp is planning to release a couple more updates to the billion user app in the coming days.
How many companies have tried yet this new feature?
As with the passage of time, all the major apps are now opting out for the dark mode feature. In the recent past, WhatsApp has worked on various features to grow its user base and provide new and exciting features to the existing users. Group video chat was one of the features and it was highly appreciated by the users from all parts of the world.
Search Engine giant Google, smartphone megabrand OnePlus have been promoting the dark mode feature from quite a while now. The simple reason is that the dark mode not only saves the energy but also brings ease to the eyes while using the smartphone. In an interesting fact, OnePlus was the first company in the world to introduce such a phone that included the dark mode feature within the interface of the device itself.
Also, it was also updated that Outlook is planning to update its app especially for the iOS and introduce the dark mode the iOS users.
Moreover, WhatsApp is also going to roll out its update through which the preview option will be enabled in the smartphones. With the release of version 2.18.366, the user will directly be able to preview any link received on the messaging app straight from the notification bar. The link can be from any of the websites including a video from YouTube, or a tweet from Twitter or any social link. It will enable the user to see the link directly without opening the chat and take an action on it. It is expected that the stable version of this update will be released soon for both Android and iOS users.
If we are on the trending topic of dark themes, there is no way we can give Google apps a pass. The Mountain View giant has already started painting most of its app all-white while providing users the option to change to a darker theme. We have seen this trend with other big platforms like YouTube as well as Android Messages, and Gmail is expected to be the next in line. The dark theme could ultimately be coming to satisfy the users need for a better battery life or simply a darker theme to decrease eye strain at night time. There is not any defined timeline for the rollout of the dark mode on this highly popular messaging app WhatsApp just yet, but expect it to roll out very soon.