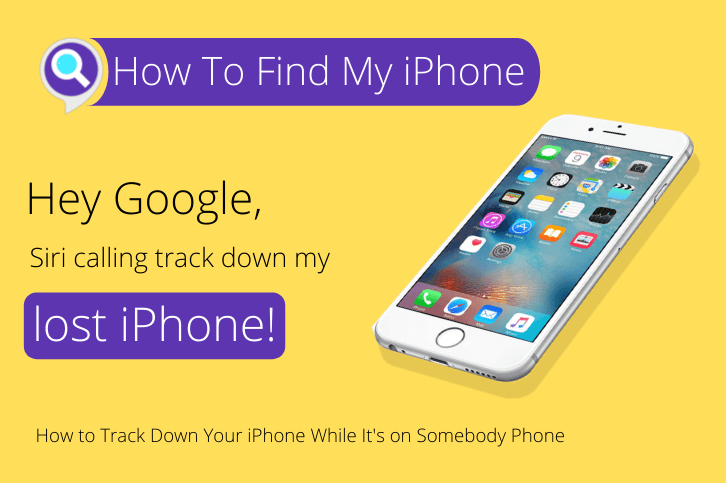 Hey Google, Siri calling track down my lost iPhone!
Have you ever misplaced or lost your precious iPhone? Without the help of 'Find My Service' many expensive iPhone users would have to undergo massive bouts of depressions. Now Google also has a Siri integration to help iPhones be traced and returned to rightful owners happily. It's simple to get panicked the moment you know your iPhone is lost or, much worse, stolen. You soon remember how often personal info is stored on your computer, and the situation becomes even harder as you realize the only way of communication with the external world has vanished as well. Not to mind the fact that repairing a missing iPhone may be costly.
If you are an Apple smartphone user, the following information should be handy.
How does it work
Google's Find My Device tool is accessible as a mobile application and as a separate website page, all of which work in a similar method. If you have already logged through your Browser, a map of all of the registered devices must appear pop up. You may then buzz your computer with a tone, lock it and show a message on the phone, or delete all confidential data from the device. If you need to locate, lock, or delete your Android phone, this Google web page is a good place to start.
If you have a Nest speaker installed it could be pressed into action. Just say, "Hey Google find my phone." And you would know exactly where to locate it. What you need to do is to opt in for Google app notifications for Siri integration. This sync will enable a sound alert even if the phone is on 'Do not disturb mode. Google Assistant (GA) is happy to reunite you with your device once this crucial step is activated. One of the biggest benefits is that the user can ask GA to use any platform to locate the lost device. So you could grab a Chromecast, speaker, or an Android tablet to take help.
What if… GA is not working?
While users are quick to install their favorite apps, they often forget the most critical ones like GA. It needs to be enabled through the right methods. Follow the steps to ensure that it is working and can locate the device when required.
1. Turn on notifications from the Google Home app.
2. The voice match should be correct for the speaker to be activated.
3. Test by saying, where is my iPhone, or find my iPhone.
4. The device should be connected to mobile data via Wi-Fi.
There could be a problem if the phone is in silent mode. The ringer may not be able to send the notification. Go to My account>My phone Recovery> and Add your number. You will get a 6-digit code and enter it for verification. Arms will ensure that it is registered for locating whenever it is lost.
Know this important step
Select an iOS computer, and you'll be presented with five options:
Locate and secure your iPhone.
Try dialing your phone number.
Use the computer to sign up.
Contact the wireless service provider.
Look for assistance in your region.
The initial move in tracking down a missing or misplaced iPhone is to go to iCloud.com on a machine or to use the look for the iPhone software on an iPad or some different iOS unit. However, however, several users might not be thought straight whenever their iPhone goes misplaced, Google's latest Find Your Mobile section, including its simple tips, is a good mixing to the My Account list.
How do you have your data back if you've accidentally deleted it?
But you've misplaced the info and are unsure how to recover it. There's no need to be concerned because iPhone restoration functionality is accessible. You will find a few decent applications that can help you recover your data with ease by doing some online analysis. Some applications are for a fee, whilst many others are available for no cost.
Apart from file recovery, you could also save your data via iTunes backup. Uploading your data to the cloud is a simple technique to secure the data if you have an iPhone. Ensure that you have uploaded all of your data to the cloud. When any data is lost, you will use the computer to access the online iTunes account to retrieve it. You should try out a few different data restoration applications and then choose the one that best suits your needs. You should do a lot of homework before downloading an app because some apps may cause more damage than good, particularly if you download it from a suspect website. To stay on the safe side, you can just purchase a data recovery application from well-known websites.
How to Track Down Your iPhone While It's on Somebody Phone
By encouraging you to log onto your smartphone on their iPhone, your friends and relatives will assist you in locating your missing iPhone. Do not sign out with someone else's Apple ID in Settings by using a single iPhone connected to the Apple ID; instead, use the Me tab in the Find My software to log in manually.
What Is Lost Mode and How can you Activate It in Google?
You'll see an alternative named Mark as Lost when you are using Find My to locate your misplaced iPhone. When Mark as Lost is unlocked, your smartphone will be manually locked and a custom message with a phone number where you can be called will be shown. Most updates, like Apple Pay, will be removed, but your phone would still be able to accept FaceTime updates if Mark As Lost is allowed. This program allows you to locate your smartphone using the Find My software by turning on your mobile data remotely.
An iPhone app development services consumer can choose any platform, including a mic, the latest Chromecast models, or even an Android tablet, to ask Google Assistant to locate their phone. To do this, the Google Home software must be enabled on the iPhone and the user must be signed in with his or her Google account.