Mobility solutions for the healthcare industry are turning out to be the next-gen technology. Enterprise mobile apps development companies are building hybrid apps by leveraging technologies and this is happening steadily. Apps for devices like fitness bands, watches, and other manufacturing devices are taking app solutions to the next level altogether pushing healthcare mobility solutions.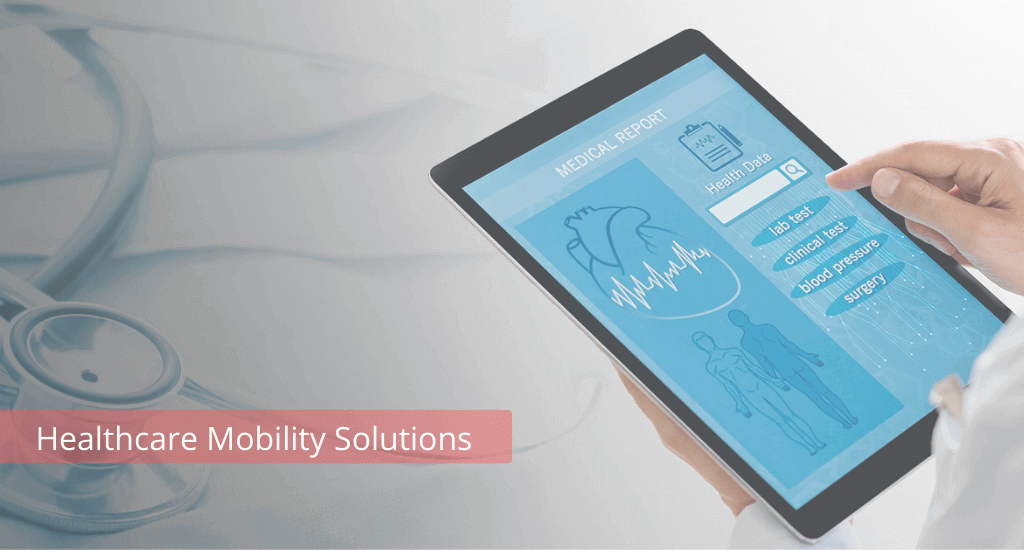 The clinical visits for minor checkups are declining because people have started using sensor-based medical devices at home. The data from these medical devices are later sent to the app on the mobile. Mobility solutions include a list of latest tools that create a holistic healthcare system to ensure better clinical facilities, treatment, personalized care and services for patients. This relatively resulted in cost reduction and better-improved treatment.
Major benefits of mobility solutions in healthcare industry
Enhanced treatments

Healthcare solutions connected to cloud computing or other available virtual infrastructure makes the healthcare entrepreneur eligible to access real-time data for making well-informed decisions. Instant access develops a better understanding of a particular treatment and if it is responding as required, which ultimately helps in giving timely treatment and so, treatment quality gets improved.

Reduced rush

By using mobility solutions in healthcare, doctors can monitor their patients in real-time and this reducing unnecessary rush to the clinic. Patients don't need to visit their doctor since their home care facilities are well-equipped and eliminating the need of admitting in the hospitals for checkups.

Better understanding of the disease

As the patients are being monitored by the doctors regularly, the healthcare providers can easily access real-time data to understand the disease and provide the best treatment on time.

Minimum space left for errors

IoT helps in precise real-time data collection and automated workflows help deciding with least risk or error. This is done with mobility solutions.

Better drug management

Massive real-time data can help in the latest trend prediction and generate analysis reports on the medical needs of the regular patients and accordingly maintain the inventory.

Better healthcare experience

By connecting the healthcare system with the main system, healthcare providers can effortlessly meet the medical needs of the patient. The data related to patient history and present medical condition will give them treatment options and procedures for better healthcare experience.
Healthcare mobility solutions are designed to handle critical and sensitive data of the patients and this is why a proper dataflow and system is demanded. Staff in healthcare use mobile devices with unique approaches. These solutions are revolutionizing the healthcare industry in multiple ways. From facilitating patient care to hospital admin; mobility solutions are bringing long-lasting impacts at various stages in healthcare.
Emergency Care - patients can avail effective emergency care assistance on demand. Mobility apps are there to help them stay in touch with the emergency medical assistance team.
Patient Care - Ranging from medical administration to patient monitoring, mobility solutions will open interesting and successful patient care services.
Hospital Management - You should understand this fact that mobility app solutions are not just meant for intensive care. Many admin processes like insurance claims, billing, and discharge processes are also critical to notice.
Other than these areas, the solutions are bringing a lot of changes in other avenues like clinical collaboration, community care, and workforce management.
Let's discuss the three important approaches and strategies to enterprise mobility management for healthcare –
Mobility device management

This is a sort of security programming that is designed for controlling, overseeing and verifying the mobile devices utilized by staff employees that are sent all through various mobile service providers and working systems utilized by the organization. Through mobility device the executives, organizations guarantee that employees are working appropriately and not breaking any corporate strategy breaches.

Mobility app management

This software enables the user to enforce control on certain business apps and set limit of sharing business data. This software keeps the enterprise apps separate from the personal apps and content.

Mobility information management

This app includes data encryption, authentication, and authorization processes in a single place which enables safe and protected access and transmission of data regardless of the app and device. This app has data monitoring and data management features. It offers multi-level authentication and password protection along with geographical level limits on the data flow.
What we concluded?
Digital transformations make better patient monitoring possible in medical practices. Personalized medical services and treatments are a reality that patients can experience today. It is all happening due to mobility solutions. Enterprise mobile apps development companies in the IT world are bringing so many useful and trending apps for the healthcare world to make the patient care smoother and easier. These apps are also helping doctors to attend maximum patients in their limited time frame, thus more patients are able to receive better treatment in their reach.